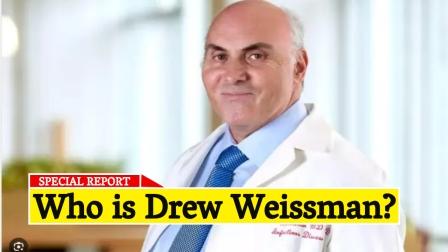 In the realm of modern science and medicine, certain individuals emerge as trailblazers, their contributions leaving an indelible mark on the world. Dr. Drew Weissman is undeniably one such luminary. But Who is Drew Weissman, and what has he accomplished that has earned him widespread recognition and acclaim?
Summary Of Who Is Drew Weissman?
| | |
| --- | --- |
| Full Name | Dr. Drew Weissman |
| Date of Birth | September 7, 1959 |
| Place of Birth | Lexington, Massachusetts, U.S. |
| Education | – B.A. and M.A. degrees from Brandeis University |
| | – M.D. and Ph.D. from Boston University (Immunology & Microbiology) |
| Career Highlights | – Roberts Family Professor in Vaccine Research |
| | – Director of Penn Institute for RNA Innovation |
| | – Professor of Medicine at Perelman School of Medicine, University of Pennsylvania |
| Notable Achievements | – Pioneering work in RNA biology |
| | – Co-developer of mRNA vaccine technology |
| Awards & Honors | – Nobel Prize in Physiology or Medicine (2023) |
| | – Lasker-DeBakey Clinical Medical Research Award (2021) |
| | – Breakthrough Prize in Life Sciences (2022) |
| | – Numerous other awards and recognitions |
| Key Collaborator | Katalin Karikó |
| Impact | – Revolutionized mRNA vaccine technology, including COVID-19 vaccines |
| | – Potential to transform vaccine development for various diseases |
| Global Recognition | – Gratitude from people worldwide for enabling COVID-19 vaccination |
| Legacy | – Co-inventor of patents essential for RNA vaccine technology |
The Early Years
Humble Origins and Diverse Heritage
Born on September 7, 1959, in Lexington, Massachusetts, Drew Weissman comes from a unique cultural background. He is the son of a Jewish father and an Italian mother, which imbued his upbringing with a rich tapestry of traditions and customs. Despite his mother not converting to Judaism, the Weissman household celebrated Jewish holidays, creating a culturally diverse environment.
Educational Pursuits
Weissman's journey in academia commenced at Lexington High School, where he graduated in 1977. His thirst for knowledge led him to Brandeis University, where he earned his B.A. and M.A. degrees in 1981. His studies at Brandeis, with a focus on biochemistry and enzymology, laid the foundation for his future scientific endeavors. Subsequently, Weissman pursued graduate studies at Boston University, obtaining his M.D. and Ph.D. in 1987. His graduate work delved into immunology and microbiology, setting the stage for his groundbreaking contributions in the years to come.
People Also Read

Who is Katalin Karikó? A Pioneer in mRNA Research
The Remarkable Career of Drew Weissman
Founding the Laboratory
In 1997, Drew Weissman embarked on a transformative journey when he established his laboratory at the University of Pennsylvania. This marked the beginning of a prolific career dedicated to the exploration of RNA and innate immune system biology. His position as the Roberts Family Professor in Vaccine Research at the university provided him with a platform to innovate and push the boundaries of scientific discovery.
Collaboration with Katalin Karikó
A serendipitous encounter at a photocopier forever changed the trajectory of Weissman's career. It was here that he met Katalin Karikó, a fellow scientist who shared his concerns about the lack of funding for RNA research. This chance meeting ignited a collaboration that would alter the course of medical history. Karikó's work with RNA therapy for neurological conditions combined with Weissman's expertise in immunology and vaccines formed a powerful synergy. Together, they embarked on a quest to harness the potential of RNA technology.
A Pioneering Breakthrough: Synthetic Nucleosides
In 2005, Drew Weissman and Katalin Karikó achieved a monumental breakthrough. They successfully utilized synthetic nucleosides to modify RNA, preventing its degradation by the body. This groundbreaking discovery laid the foundation for RNA therapeutics, although it garnered limited attention at the time. In 2006, they co-founded RNARx with the aim of advancing RNA therapies.
The Global Impact: COVID-19 Vaccines
In the year 2020, Weissman's modified RNA technology took center stage as it became the cornerstone of the Pfizer/BioNTech and Moderna COVID-19 vaccines. These vaccines, deployed worldwide in the battle against the pandemic, relied on the same technology that Weissman and Karikó had pioneered. Beyond COVID-19, Weissman envisions the potential for this technology to revolutionize vaccines against influenza, herpes, HIV, and more.
FAQs
1. Who is Drew Weissman?
Ans:- Drew Weissman is an American physician-scientist renowned for his pioneering work in RNA biology and mRNA vaccine technologies.
2. What is Drew Weissman's educational background?
Ans:- Weissman earned his B.A. and M.A. degrees from Brandeis University and obtained his M.D. and Ph.D. from Boston University, specializing in immunology and microbiology.
3. What is Drew Weissman known for in the scientific community?
Ans:- Drew Weissman is best known for his groundbreaking contributions to RNA biology and the development of mRNA vaccines, particularly those used against COVID-19.
4. How did Drew Weissman's collaboration with Katalin Karikó begin?
Ans:- Their collaboration started when they met at a photocopier and shared concerns about the lack of funding for RNA research. This partnership led to groundbreaking discoveries in RNA therapy.