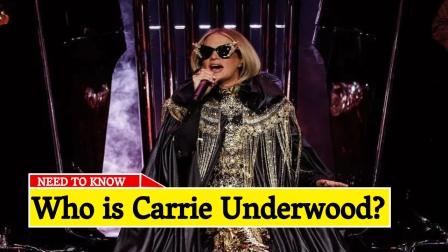 Who is Carrie Underwood? Carrie Underwood, a name that resonates throughout the music industry, is an American singer, songwriter, actress, and author. But who is Carrie Underwood, and how did this small-town girl rise to become one of the most influential figures in the world of entertainment?
Summary of Who is Carrie Underwood?
| | |
| --- | --- |
| Who is Carrie Underwood? | American singer, songwriter, actress, and author |
| Birthdate | March 10, 1983 |
| Hometown | Muskogee, Oklahoma |
| Rise to Fame | Winner of the fourth season of "American Idol" (2005) |
| Musical Achievements | Multiple chart-topping albums and Grammy Awards |
| Endorsements | Partnerships with major brands |
| Personal Life | Married to NHL player Mike Fisher, two children |
| Advocacy | Vegan lifestyle advocate, animal rights supporter |
| Resilience | Overcame a face-altering accident |
| Ongoing Impact | Continues to be a prominent figure in the music industry |
A Small-Town Start
Carrie Underwood's journey began in Muskogee, Oklahoma, where she was born on March 10, 1983. Raised on her family's farm in Checotah, she experienced the simple joys of rural life. It was in this unassuming setting that her love for music took root. Despite being diagnosed with attention deficit hyperactivity disorder (ADHD) at a young age, Carrie's determination was unwavering.
Early Musical Aspirations
From performing at church gatherings to participating in local talent shows, Carrie's musical talent shone brightly. At the age of 14, a local admirer recognized her potential and encouraged her family to take her to Nashville for a record contract audition. Although their first attempt with Capital Records did not yield the desired result, Carrie's dreams of becoming a singer were far from extinguished.
People Also Read

What is Carrie Underwood Net Worth 2023 ? : A Deep Dive
The "American Idol" Triumph
In 2004, Carrie's life changed dramatically when she auditioned for the fourth season of "American Idol." Simon Cowell's prediction that she would not only win the competition but also surpass all other contestants in terms of success proved to be remarkably accurate. On May 24, 2005, Carrie was crowned the winner of "American Idol," catapulting her into the spotlight.
Musical Success and Achievements
Carrie's debut studio album, "Some Hearts," released in 2005, achieved resounding success. It reached #1 on the U.S. Country chart and #2 on the Billboard 200 chart, earning her three Grammy Awards, including Best New Artist. Subsequent albums like "Carnival Ride," "Play On," "Blown Away," and "Cry Pretty" continued to top the charts. Carrie's music career was marked by numerous #1 singles, firmly establishing her as a country music powerhouse.
In summary, Carrie Underwood, the small-town girl with extraordinary talent, captured the hearts of millions through her remarkable journey from "American Idol" to becoming a chart-topping sensation. Her dedication to music, resilience, and commitment to causes she holds dear have made her an icon in the entertainment world. So, when you ask, "Who is Carrie Underwood?" the answer is a trailblazing artist who continues to leave an indelible mark on the music industry.
FAQs
1. How many Grammy Awards has Carrie Underwood won?
Carrie Underwood has won eight Grammy Awards, solidifying her status as a highly acclaimed artist.
2. Has Carrie Underwood ventured beyond music?
Yes, Carrie has diversified her career through lucrative endorsement deals with companies like Target, Nintendo, Skechers, Olay, Hershey's, Almay, and Dick's Sporting Goods.
3. What is Carrie Underwood's commitment to veganism?
Carrie is a passionate vegan, driven by her love for animals. She was voted "World's Sexiest Vegetarian" by PETA in 2005 and 2007.